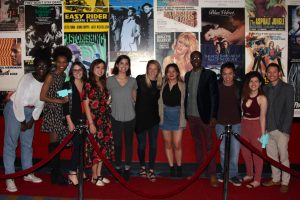 Cinema@Tech is the collective of a series of film and media-related activities headquartered in Georgia Tech's School of Literature, Media, and Communication. Driven by a core group of faculty offering a wide variety of courses in Global and American cinema, film history and theory, animation, and video production, Cinema@Tech sponsors film series throughout the year and affords students opportunities for independent film study and video production.
Students at Georgia Tech can earn a minor in Film and Media Studies.
Those enrolled in LMC's undergraduate programs can focus their degree on a combination of film and media, including the opportunity for basic and advanced courses in video production.
Cinema@Tech Faculty
John Thornton
Senior Academic Professional and Director of Film and Media
Philip Auslander
Professor
Ida Yoshinaga
Assistant Professor
JC Reilly
Senior Academic Professional and Associate Director of Undergraduate Studies
Qi Wang
Associate Professor
Robert Wood
Associate Professor
John Thornton, MFA
John Thornton is an award-winning documentary filmmaker whose work reflects anomalistic stories of strength triumphing over adversity, where the characters compel audiences to take action. He has worked with ABC Family, TLC, HGTV, AXS TV, Meddin Studios, Walt Disney Pictures, UpTV, Student Quarters, From the Root, and Broadcast Management Group on documentary short films, narrative feature films, independent short films, episodic television shows, and reality television shows. John is an active member of the Television Academy of Arts and Sciences, American Film Institute, International Documentary Association, Film Independent, and Gotham Film and Media Institute. In the School of LMC, he serves as the Director of Film and Media and is a part of the Black Media Studies cohort.  He teaches Video Production (LMC 3406), Advanced Video Production (LMC 3407), Documentary Film Production (LMC 3258), Global Documentary Theory & Practice (LMC 8803), and Producing Black Documentary Film and Podcast (LMC 3454).
Philip Auslander, PhD
Prof. Philip Auslander teaches in LMC in the areas of Performance Studies and Popular Music. Auslander teaches LMC 3062: Film Acting Workshop annually for the film production program, usually in the spring semester. Auslander brings extensive experience as a stage and screen actor to the course, which combines actor training, the specifics of acting for the camera, and professional development. Although the course proceeds on the assumption that participants are seriously interested in acting and the acting profession, it is recommended for anyone interested in film/video production to gain insight into the process from the actor's perspective. In 2018-19, Auslander collaborated with John Thornton and Melissa Foulger to produce "Dr. Blues," a short film he wrote. The production involved GT students as actors, crew, post-production, and Atlanta-based film professionals. The film was selected for the Peachtree Village International Film Festival in 2019 and has also been shown in Germany and Switzerland venues.
Ida Yoshinaga, PhD
Ida Yoshinaga studies diversity in content and equity in production for screen narratives via the formal tools of cinema studies and science-fiction/fantasy (sf/f) genre studies. Her students learn to play with story structure, blend realistic/naturalistic with speculative/fantastic genres, and adapt cultural and regional folklore into short film scripts. They also learn to research and write about theatrical movies, TV shows, cable/streaming series, and other scripted screen stories in ways that demonstrate critical thinking. A media-maker herself, Dr. Yoshinaga currently trains in line producing, cultural animation, and Indigenous documentary production. Vilsoni Hereniko and Gavin Arucan's short animation "Sina Ma Tinirau" (2021), for which she had served as assistant producer, won several awards, including the Berlin International Film Festival's Best Animated Short, and has been an official selection in many European and Pacific-Asian film festivals as well as in the Smithsonian National Museum of American Indian's Native Cinema Showcase and Virtual Native Cinema Showcase. At the LMC School, she teaches Science-Fiction Film and Television (LMC 3215), Oral Traditions to Screenplay (via Special Topics/Special Topics in Digital Media: LMC 4813/LMC 8803), and Animation (LMC 3253).
JC Reilly, PhD
JC Reilly is a poet whose work focuses on Southern culture, the spirit of place, and women's spirituality.  She teaches creative writing in many genres, including poetry, fiction, nonfiction, and drama. She was instrumental in developing the first screenwriting class ever offered at Georgia Tech in response to the script needs of Professor Thornton's Video Production class.  In addition to teaching and administrative duties, she serves as the Managing Editor of the poetry journal Atlanta Review.
Qi Wang, PhD
Qi Wang is an Associate Professor in the School of Literature, Media, and Communication. She received her Ph.D. in Cinema and Media Studies from UCLA, M.S. in Comparative Media Studies from MIT, and B.A. in English Literature from Peking University, China. Her first book, Memory, Subjectivity, and Independent Chinese Cinema (Edinburgh University Press, 2014), provides a historically informed examination of independent films made between 1990 and 2010 in China. She has also published articles in positions: Asia critique, Asian Cinema, Journal of Chinese Cinemas, MCLC (Modern Chinese Culture and Literature) Resource Center, and so on. Currently, she is working on her second book, temporarily titled A Poetics of Space in East Asian Cinema. At LMC, she teaches film courses, including LMC 3254 Film History, LMC 3256 Major Filmmakers, LMC 3257 Global Cinema, LMC 2500 Introduction to Film, etc.
Robert Wood, PhD
Robert E. Wood received a Ph.D. in English at the University of Virginia.  His film studies include essays on Fosse, DePalma, and Verhoeven, as well as The Rocky Horror Picture Show.  He is the author of Some Necessary Questions of the Play, a study of Hamlet.  His poetry has appeared in such journals as Southern Humanities Review, South Carolina Review, Poets and Artists, and Prairie Schooner.  His chapbook, Gorizia Notebook reflects his experience teaching Italian film in a study abroad program. and his award-winning book of ekphrastic poetry, The Awkward Poses of Others, published by WordTech, explores art and cinema. His Intro to Film strongly emphasizes narrative technique. He has also taught specialized courses on Twentieth Century Italian Film, Shakespeare on Film, and Alfred Hitchcock.